Unterwirthof
Right in the centre of Bad Kleinkirchheim we find UnterwirtHof in a quiet and placid place. Being a place for "Urlaub am Bauernhof" (farmstay holidays), Unterwirt has been awarded 4 flowers, not only because of its outstanding and family-friendly hospitality but also for its wonderful surroundings.
Unterwirt is a place full of history and was one the first inns in the hamlet of Bach in the valley of Bad Kleinkirchheim. Over generations, the place has been offering family-like hospitality and, at the same time, it has been a busy farm.
In the 70ies –after some modernisations and extensions –the father Matthias Krenn decided to make an even bigger step by substantially extending the farm. This was the birth of Kärntnerhof. The estate was divided up between the two brothers Peter and Matthias. Since then, Peter has devoted all is time and energy to the farm activities running the family business together with his wife Ilse and his children Caroline and Hans-Peter.
Our home-made products
Fresh milk and creamy butter
Tasty cheese and juicy curd
Fruity jams and golden elderflower jam
Savoury bacon, salami and sausages
You find our home-made products in our breakfast which will be right on your doorstep every morning upon your request …. How about an Unterwirt Huabn souvenir for your loved ones back home? (farm shop)
---
Hits for Kids!
The farm offers a variety of experiences: you can pet animals, make hay, lend a hand in the barn: milk and feed cows – or look over Ilse's shoulder in the dairy.
But you can also pay a visit to Oskar, the bunny in the Kids' Entertainment World in the neighbouring Kärntnerhof.
---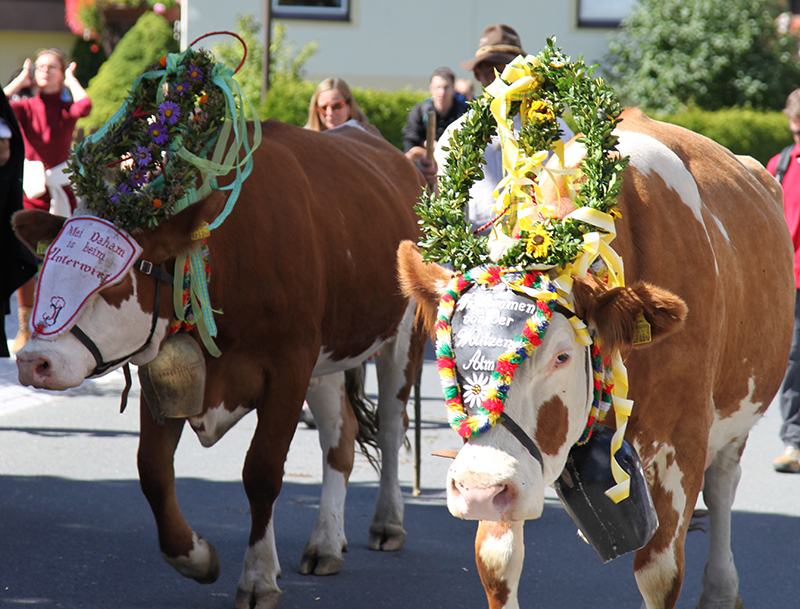 "Almabtrieb!"
(Cattle drive at the end of summer)
For centuries, "Alamabtrieb" has been one of the most important events in the course of an alpine farm year. In Bad Kleinkirchheim "Almabtrieb" from Wolitzenalm takes place every year on the second Saturday in September. An entertainment programme on Unterwirthof with music, tombola, regional delicacies and the cattle blessing make this tradition an unforgettable event.